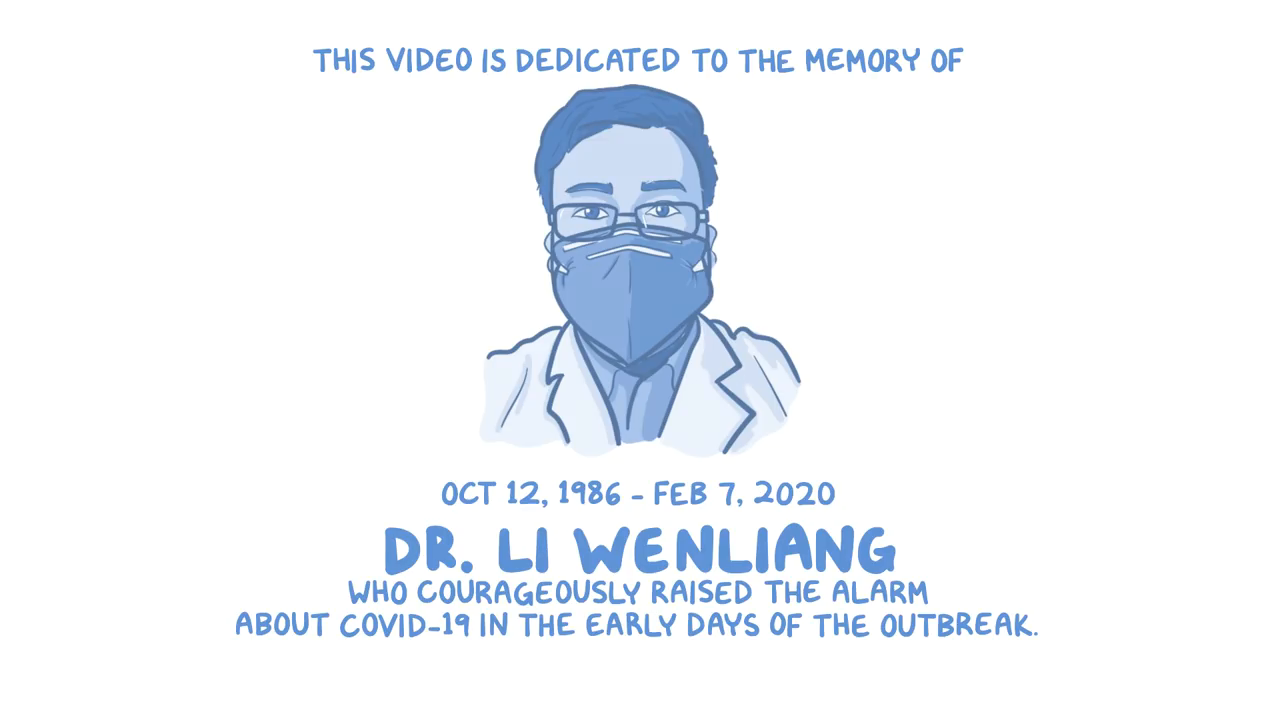 编审:Yifan Xiao, MD; Rishi Desai, MD; David Ojcius, PhD;
译校:尔墨、冯琢熙、薏米仁、itsmelan、Lemonfish、icebear52、Charlotte;

命名|Naming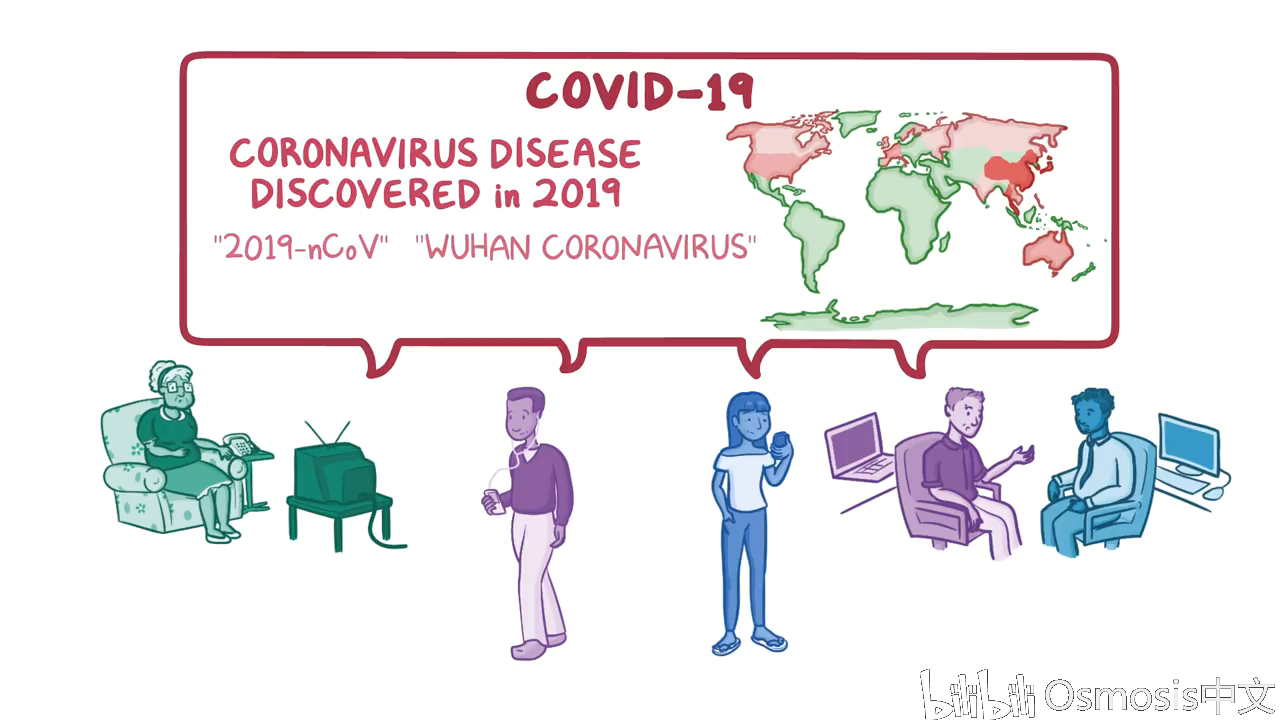 By now you've probably heard of COVID-19, or coronavirus disease discovered in 2019, which is responsible for a global pandemic. Thus far the main country affected has been China, but it has spread to a number of other countries around the world to a varying degree.  The virus was initially referred to as the 2019-nCoV, or the 2019 novel coronavirus and was informally called "Wuhan coronavirus".
大家应该已经听说过COVID–19,即2019年发现的冠状病毒(coronavirus)疾病(disease)——2019冠状病毒病;目前该疾病在全球范围流行。迄今为止,中国的疫情最为严重,但全球很多其他国家也有不同程度的流行。引起这一疾病的病毒最早被称为2019-nCoV,即2019新型冠状病毒,当初还有一种非正式的叫法"武汉病毒"(这种叫法不对噢)。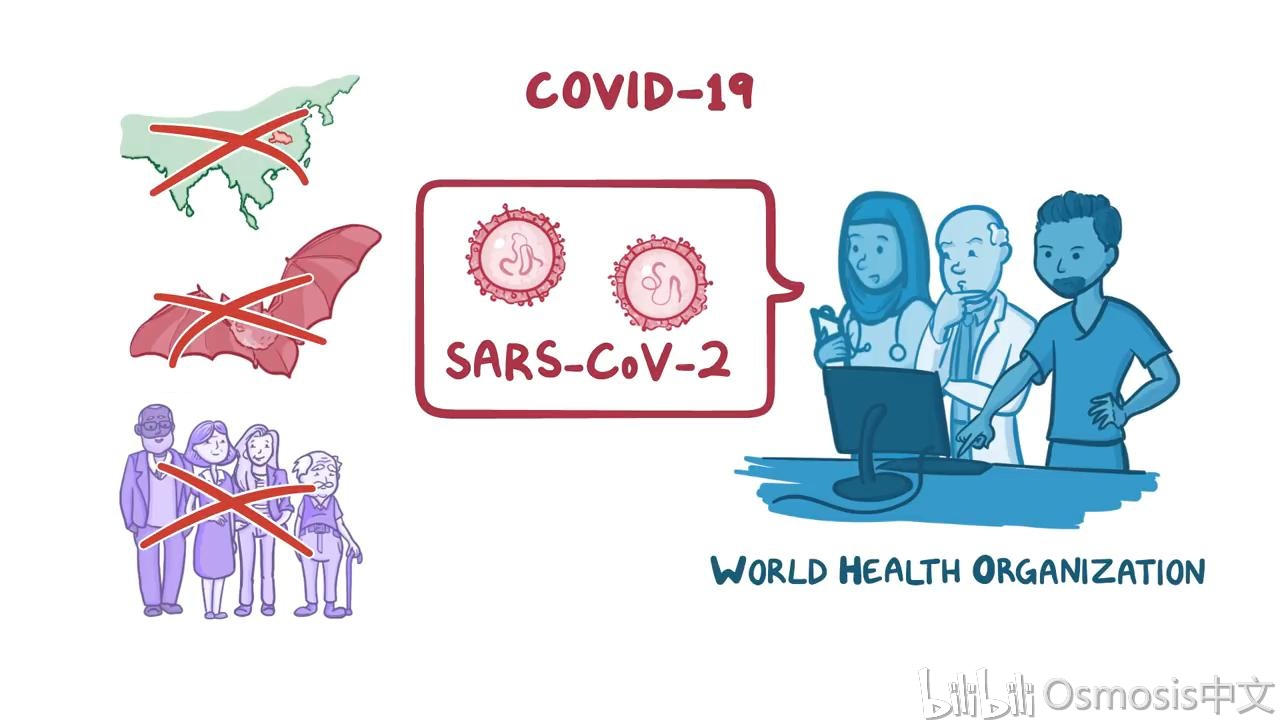 The World Health Organization named the disease COVID-19 because it doesn't refer to a geographical location, an animal, a person or group of people - all of which can lead to stigma. They also wanted to make it pronounceable and related to the disease - not an easy task! The virus was officially named SARS-CoV-2, or severe acute respiratory syndrome coronavirus 2, because it's genetically very similar to the SARS coronavirus which was responsible for…well the Severe Acute Respiratory Syndrome, or SARS, outbreak in 2002 (2003). So SARS-CoV-2 causes COVID-19.
世界卫生组织将这一疾病命名为COVID-19,以避免涉及某一地域、动物、个人或人群,意在消除污名化,同时名字还要易读,并且与疾病关联——这起名可不容易!而病毒的官方名称为SARS-CoV-2(严重急性呼吸综合征冠状病毒2型),因为它的基因序列与SARS冠状病毒相似;而SARS病毒正是于2002年底爆发、并于2003年蔓延,引起严重急性呼吸综合征(SARS)疫情的元凶。所以说,COVID-19是由SARS-CoV-2引发的疾病。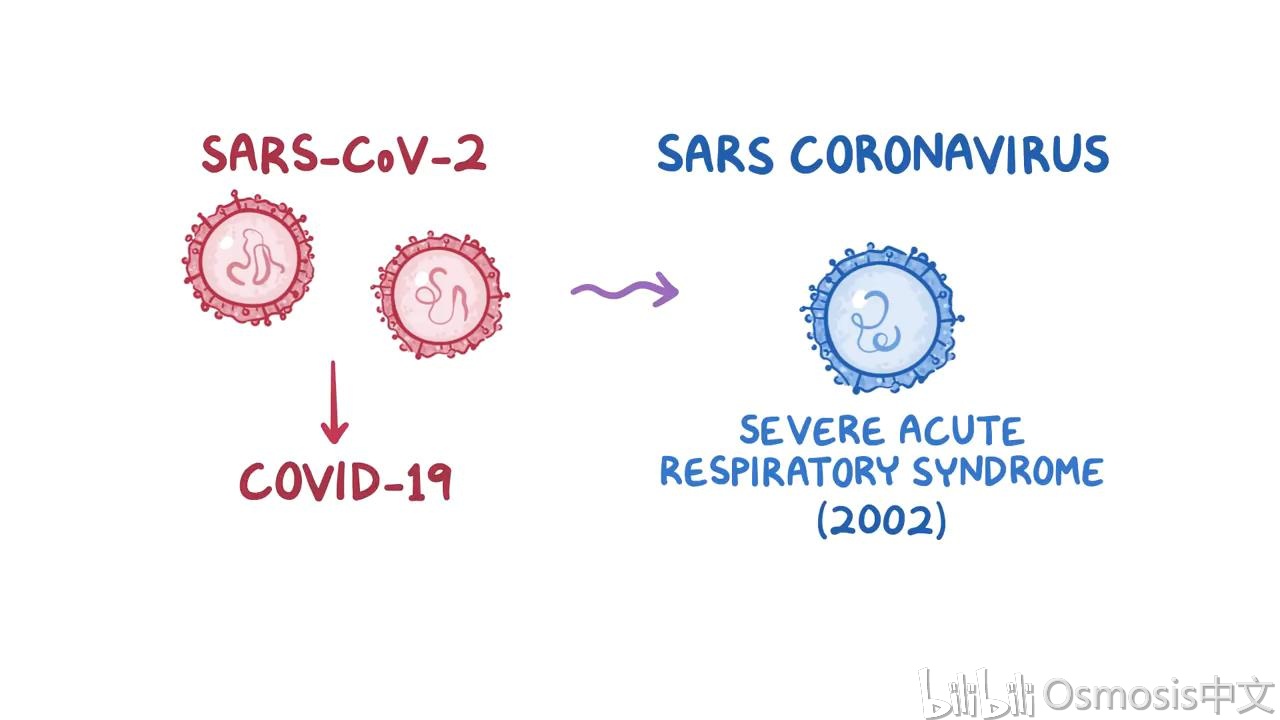 来源|Causes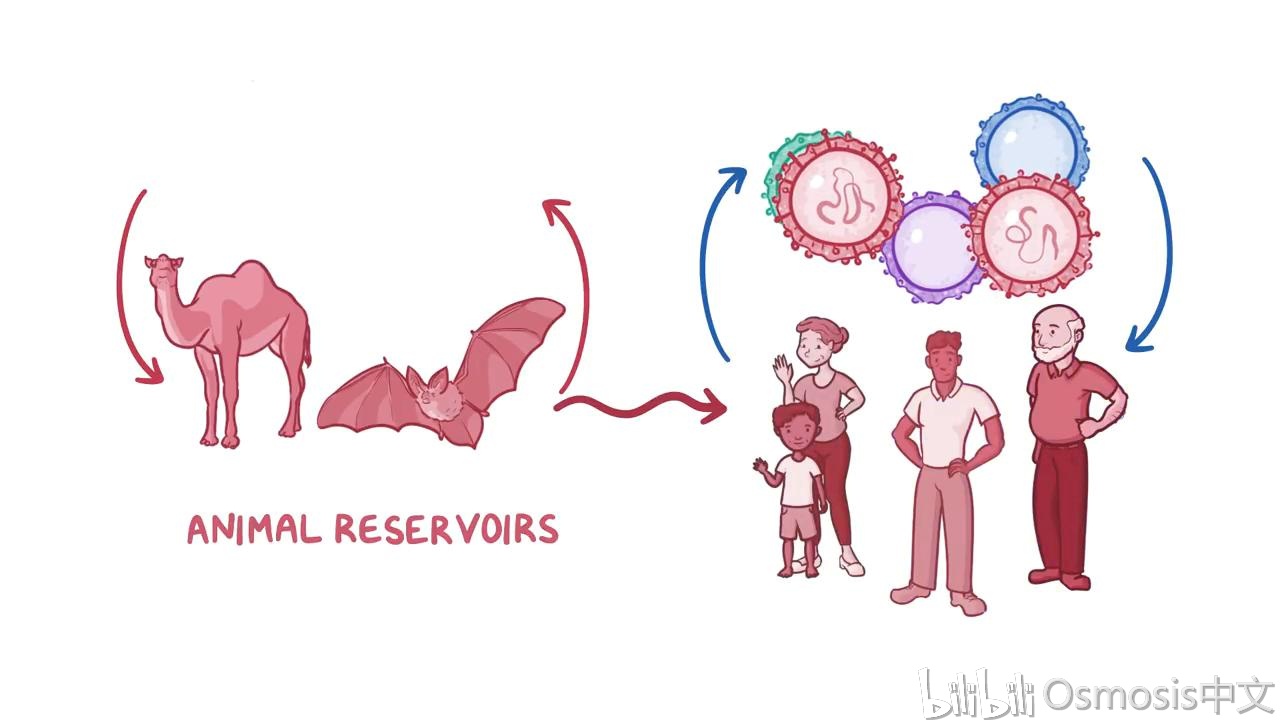 Now, coronaviruses that circulate among humans are typically benign, and they cause about a quarter of all common cold illnesses. But occasionally, coronaviruses that circulate in an animal reservoir mutate just enough to where they're able to start infecting and causing disease in humans, if they're given an opportunity. 
在人群中传播的冠状病毒通常都是良性的,普通感冒中大约有四分之一都是冠状病毒引起的,但是一些在动物宿主中传播的冠状病毒偶尔也会发生突变,趁机感染人类并致病。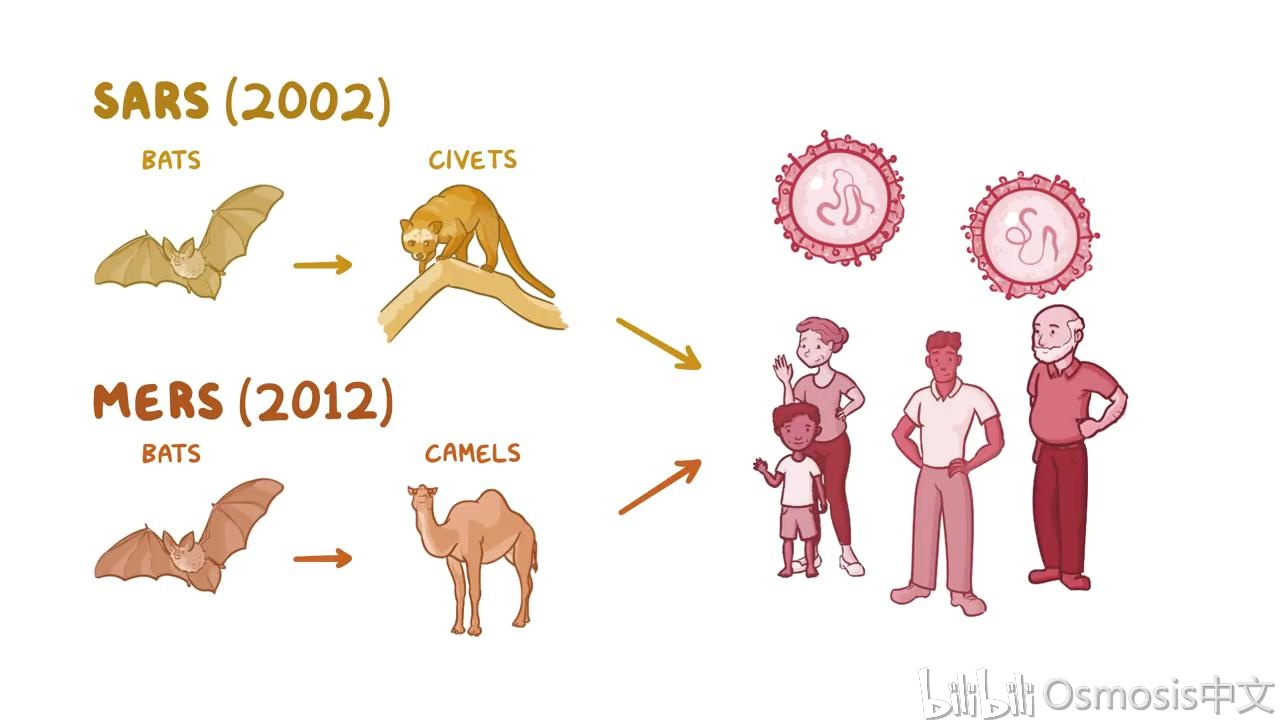 In 2002 SARS was a coronavirus that hopped over from bats to civets, which is a cat-like mammal; and then over to humans. And in 2012, there was MERS, which was a coronavirus that hopped over from bats to camels a few decades ago and then circulated among camels for quite some time before infecting humans. 
2002年的 SARS冠状病毒 从蝙蝠传播到果子狸(一种猫科哺乳动物),之后再传播到人类。在2012年,出现了中东呼吸综合征(MERS),引起这种疾病的冠状病毒在几十年前从蝙蝠传播到骆驼,在骆驼中传播了相当长一段时间后感染了人类。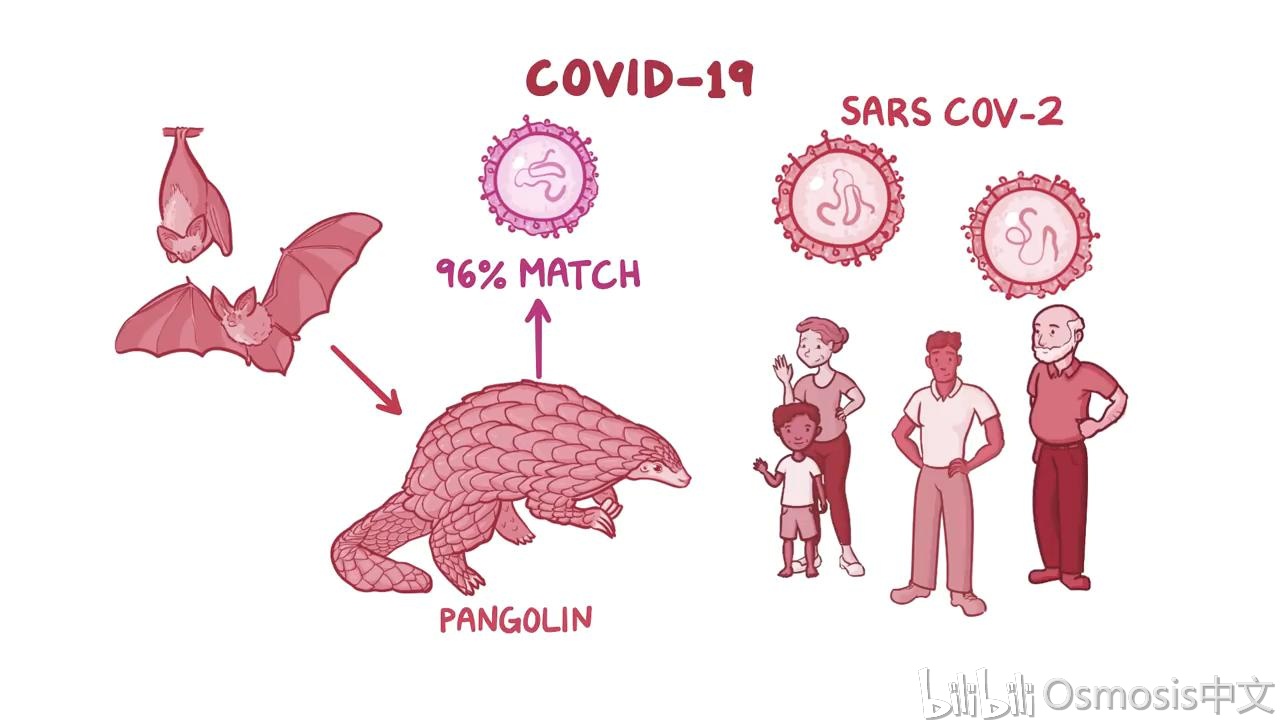 COVID-19 most likely also started with bats, but this time the intermediate host was probably a pangolin, an animal that looks like a cross between an anteater and an armadillo. That's based on the fact that scientists identified a coronavirus in pangolins that's a 96% genetic match to SARS-CoV-2. Sadly, pangolins are heavily trafficked around the planet, largely because people believe that their scales have healing properties. Because they're moved around the world rather than left in the wild, there are ample opportunities for a coronavirus to go from a pangolin to a human.
COVID-19最有可能也是从蝙蝠开始传播的,但是这次中间宿主可能是穿山甲(是一种外形看起来介于食蚁兽与犰狳之间的动物)。之所以这样推测,是因为科学家在穿山甲体内发现了一种与SARS-CoV-2基因96%相匹配的冠状病毒。不幸的是,穿山甲在全球被大量贩卖,主要是因为有些人相信穿山甲的鳞片有治疗功效。由于本应在野外的穿山甲在世界各地"活动",有大量的机会使得穿山甲把冠状病毒传播到人类身上。
疫情|Outbreaks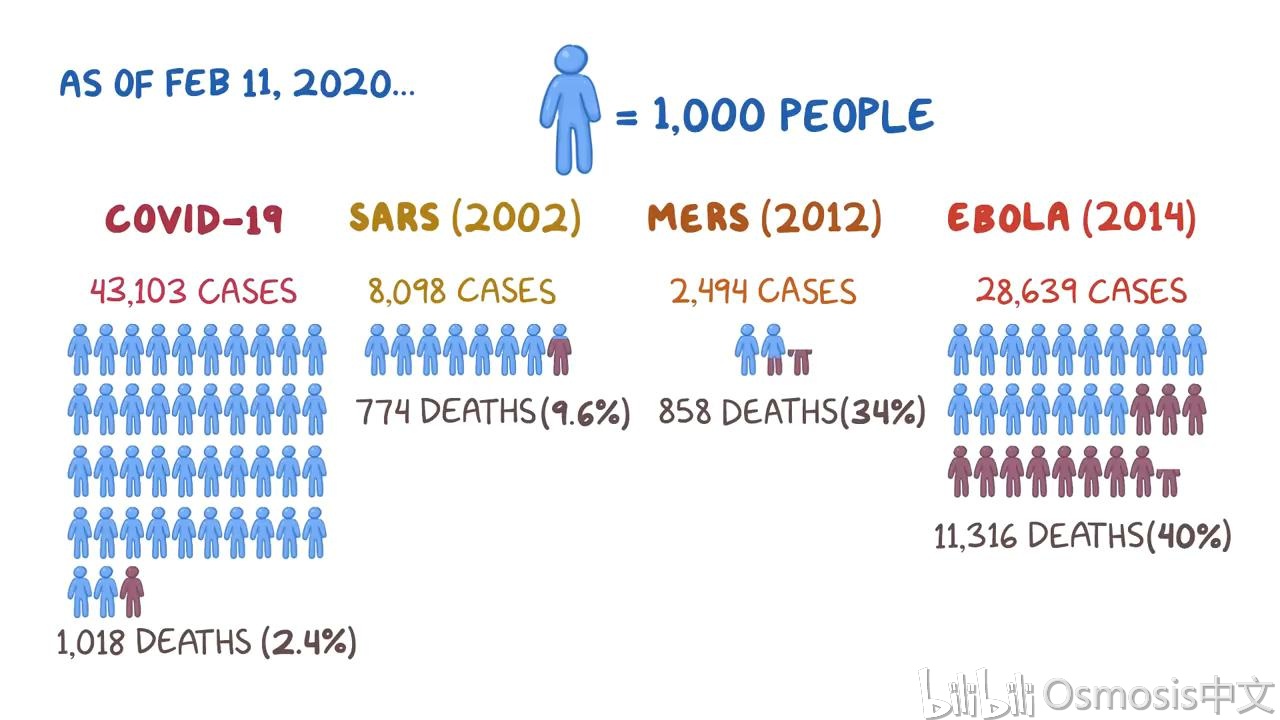 As of February 21, 2020,  there have been 76,769 cases of COVID-19 and 2,247 deaths, with a fatality rate of 2.9%, according to WHO. The vast majority of cases and deaths have occurred in China. 
截至2020年2月21日,根据世界卫生组织发布的COVID-19每日报告,全球累计确诊病例76,769例,其中2,247人死亡,病死率为2.9%。大多数确诊病例和死亡病例发生在国内。
For some perspective, the 2002 SARS outbreak resulted in 8,098 cases and 774 deaths, so the fatality rate was around 9.6%. And the 2012 MERS outbreak results in 2,494 cases and 858 deaths, bringing the fatality rate to 34%.  Finally, for the 2014 Ebola outbreak, which was not due to a coronavirus, there were 28,639 cases and 11,316 deaths. The fatality rate was a whooping 40%!
相比之下,2002/2003年的SARS疫情中,确诊病例为8,098例,其中774人死亡,病死率在9.6%左右。而2012年的MERS确诊的病例数达2,494例,858人死亡,病死率为34%。离我们最近的2014年埃博拉疫情不是由冠状病毒引起的,当时全球累计确诊病例达28,639例,11,316人死亡,死亡率高达40%!
微观|Microscopic Level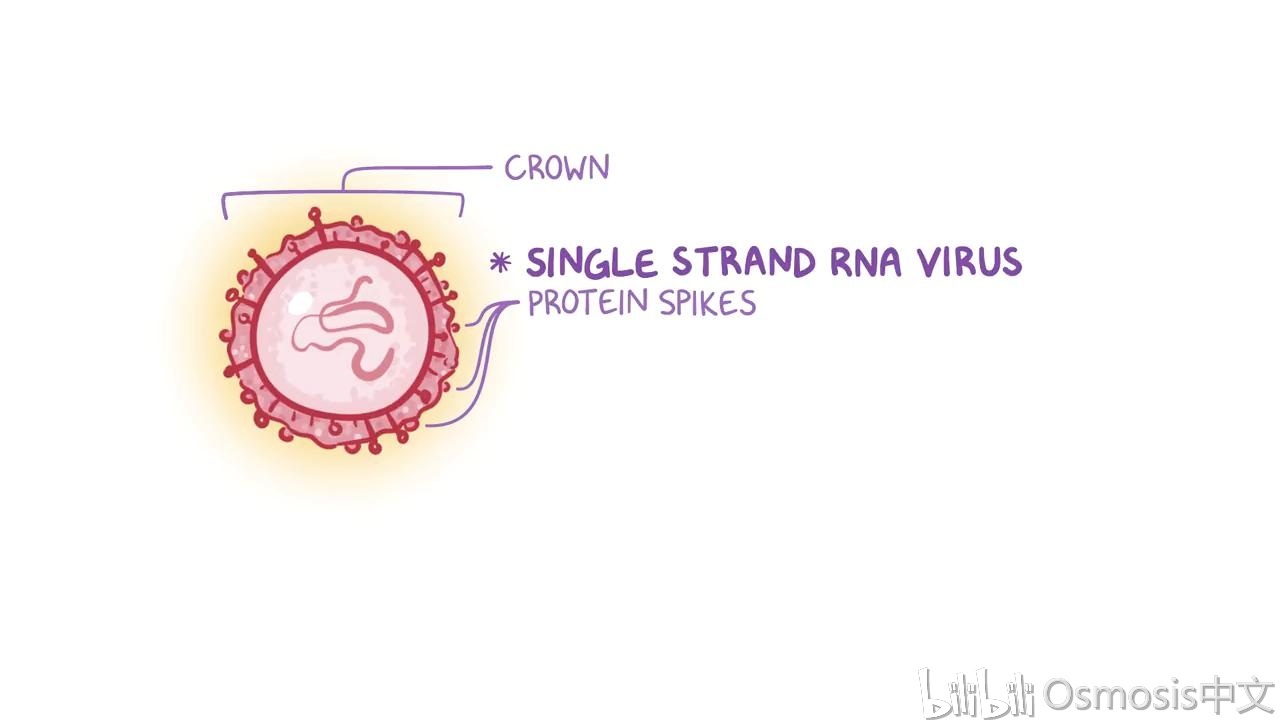 At a microscopic level, coronaviruses are single strand positive sense RNA viruses with protein spikes on their surface that look a bit like a crown under a microscope. In fact, "corona" is latin for crown. 
显微水平下,冠状病毒是表面有刺突糖蛋白、基因组为线性单股正链的RNA病毒,在显微镜下看就像带了皇冠。其实,"corona"就是"皇冠"的拉丁文。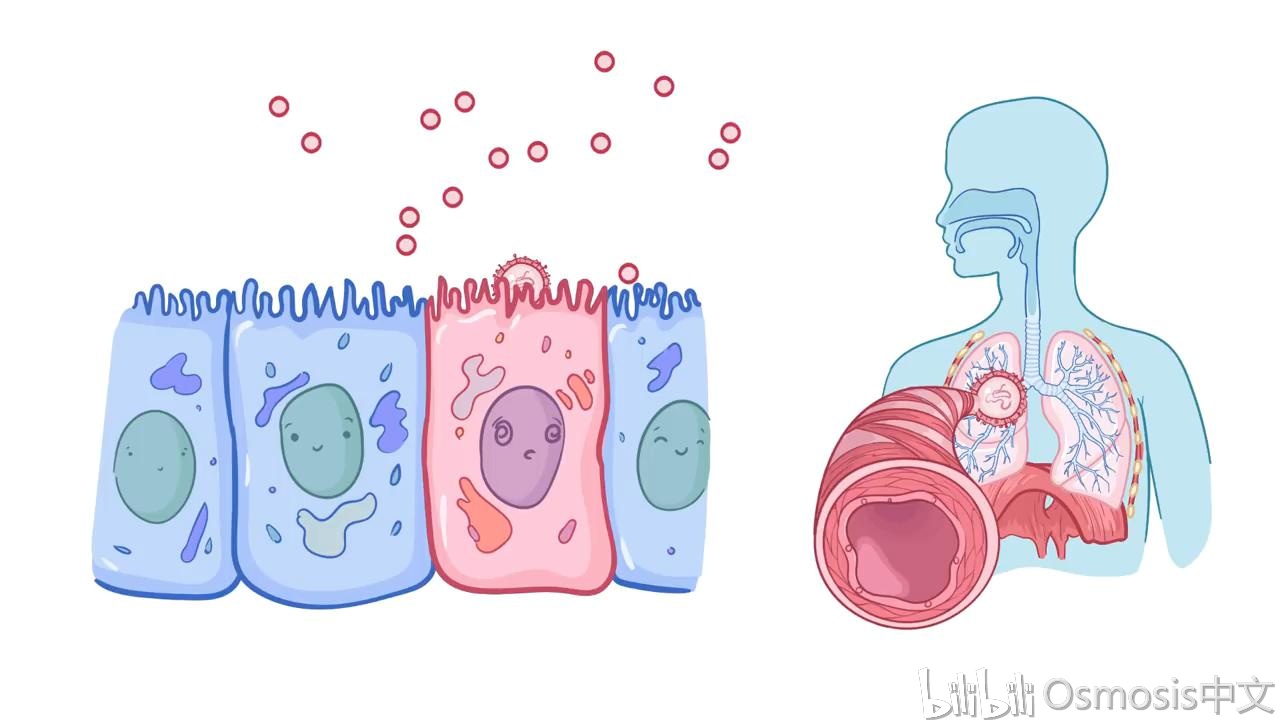 Besides looking majestic, these spikes allow the virus to invade cells lining the respiratory tract and lungs. After binding, the coronavirus enters and takes over the cellular machinery to make more and more copies of itself so it can spread to the surrounding cells and get into the mucus.
这些刺突除了看起来像威严的皇冠,还能帮助病毒侵犯呼吸道和肺部的上皮细胞。结合到细胞上后,冠状病毒便进入细胞,并接管"工厂",复制生产更多的病毒以传播至周围的细胞,并侵犯黏膜。
症状|Symptoms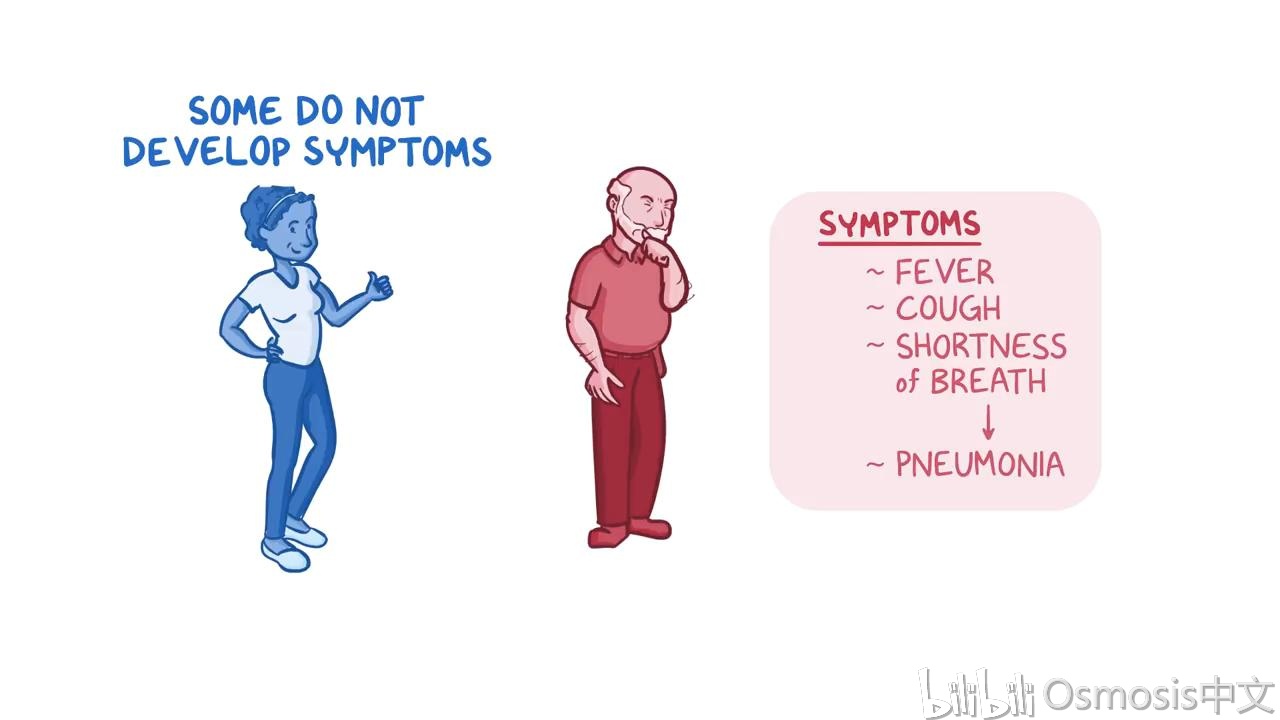 Sometimes the infection is mild, and some people don't develop any symptoms at all. For others, they can develop symptoms that can range from mild symptoms like fever, cough, and shortness of breath, all the way to serious problems like pneumonia. 
有时感染程度较轻,患者不会出现任何症状;而有的患者可从出现较轻微的症状如发烧、咳嗽、呼吸急促,逐渐发展至肺炎等严重问题。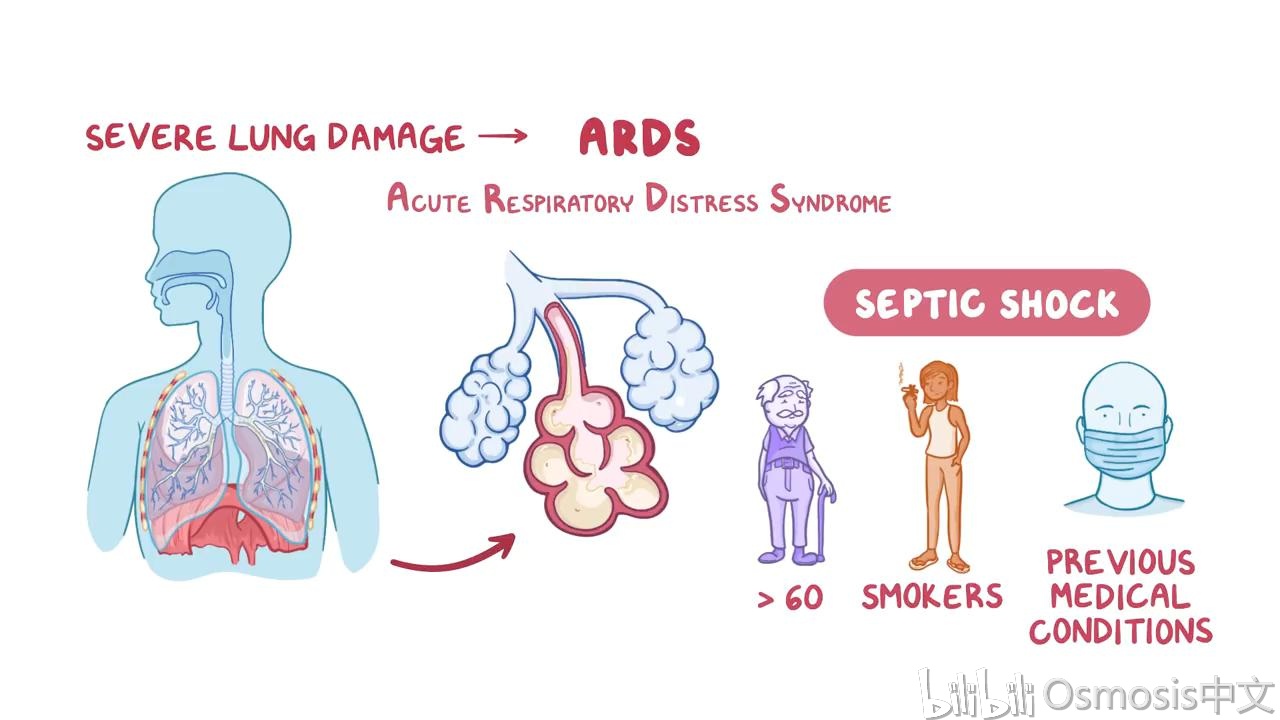 Severe lung damage can cause acute respiratory distress syndrome, or ARDS, which occurs when the lung inflammation is so severe that fluid builds up around and within the lungs. The severe infection can cause septic shock, which happens when the blood pressure falls dramatically and the body's organs are starved for oxygen. ARDS and shock are the main cause of death for people with the infection, and this is more likely to occur in those over the age of 60, smokers, and people with previous medical conditions like hypertension.
严重的肺损伤可导致急性呼吸窘迫综合征,即ARDS,当肺部炎症过于严重而导致肺部出现积液时,即可发生这种情况。严重的感染还可引起脓毒性休克,出现血压急剧下降,机体器官缺氧。ARDS和休克是重症患者死亡的主要原因,相对而言,更易发生在60岁以上、有吸烟史和高血压等病史等的人身上。
传播|Transmission
In addition to causing disease, coronaviruses can spread quickly. Usually the virus spreads when people cough or sneeze, and tiny droplets containing the virus are released. These droplets can land on another person's mouth, nose, or eyes, and that allows the virus to enter a new person. 
除了导致疾病,冠状病毒的传播速度也不容小觑。患者咳嗽或打喷嚏时,会释放含有病毒的微小液滴。这些液滴会落在他人的口腔、鼻腔或眼中,让病毒得以感染新的个体。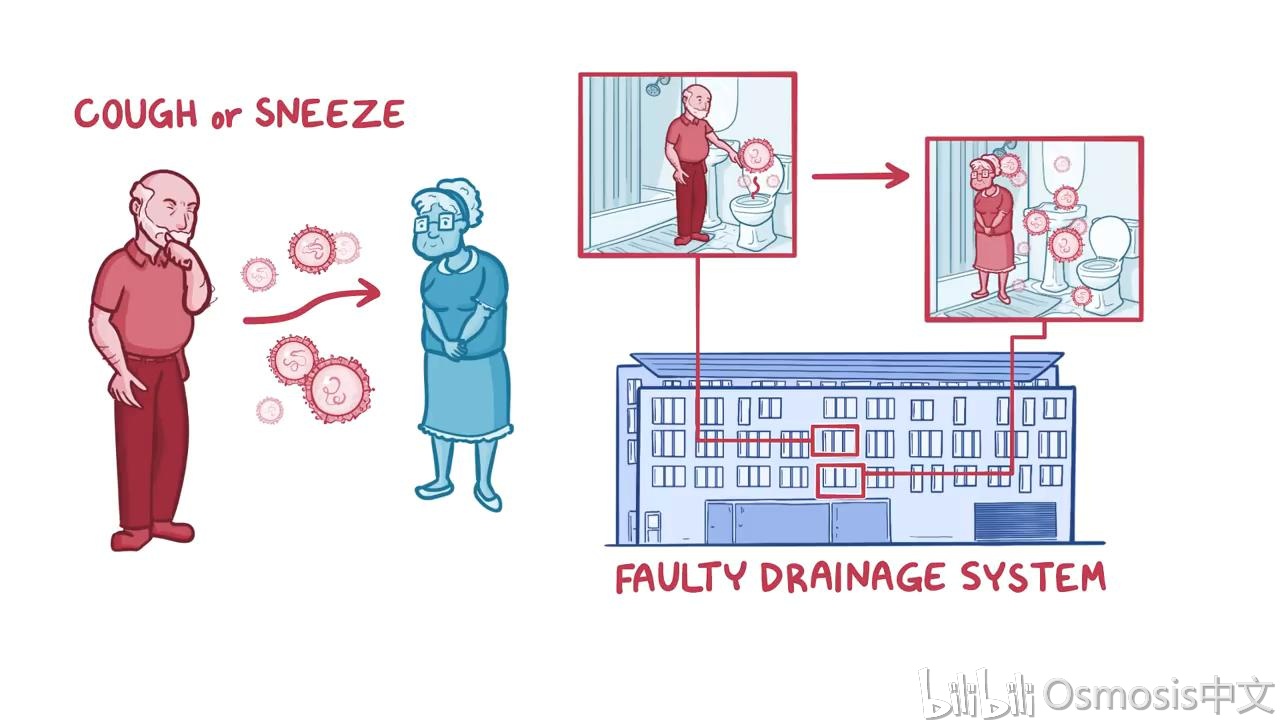 Virus can also be found in a person's stool, and in rare situations coronavirus has been transmitted from one apartment to another within a residential building. This was seen in the 2002 SARS epidemic. At that time, faulty plumbing allowed virus-containing fecal matter originating from one person's apartment to drift from drainage pipes back up into fixtures like sinks and toilets within other apartments in the same building. This created a terrible smell and allowed the virus-containing droplets to deposit on bathroom surfaces, ultimately causing people in those apartments to get ill. Something similar may have happened with COVID-19, and this is being actively investigated.
患者的粪便中也存在病毒;罕见情况下,病毒会在同楼的住户间传播。2002年的SARS大流行就出现过这种情况。当时某管道故障使得某一住户含有病毒的排泄物,通过排水管道流向同一栋楼其他住户的水槽或马桶等设备中。这不仅产生臭味,也使得含有病毒的液滴附着在卫生间表面,最终导致住户们患病。COVID-19也可能通过类似途径传播;人们还在积极调查中。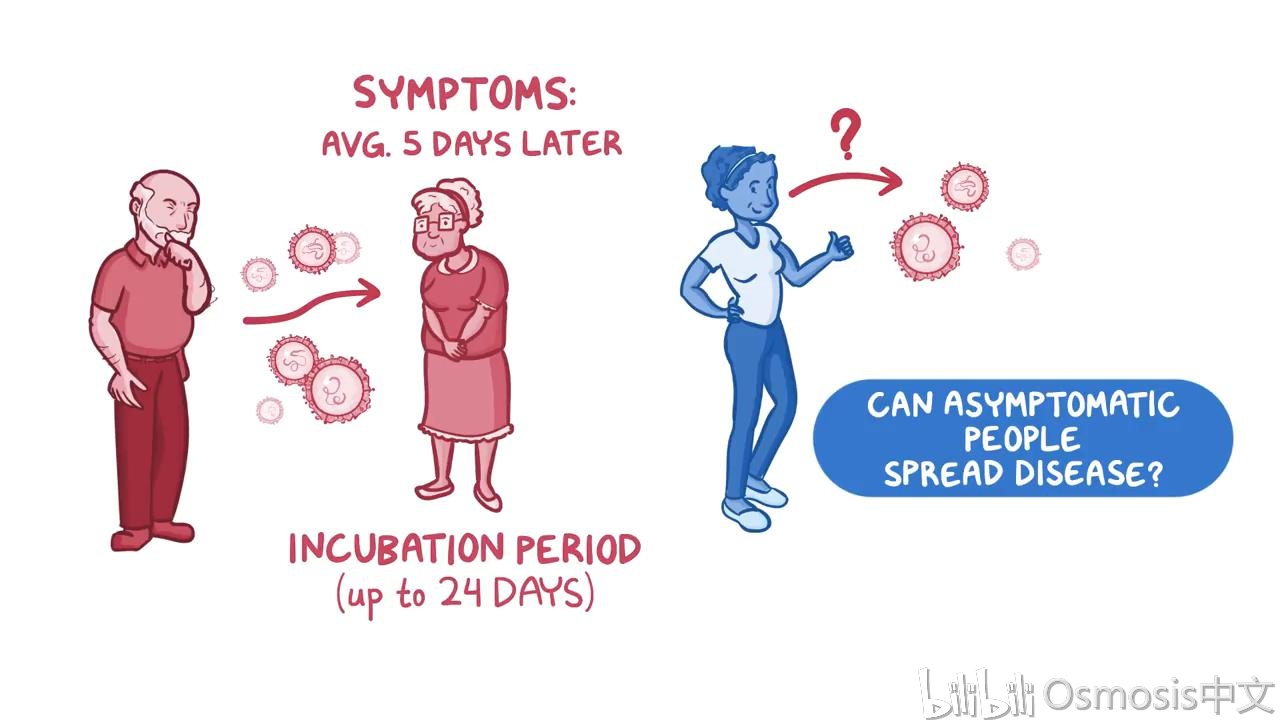 Once a person is infected, symptoms develop an average of 5 days later. This is called the incubation period. However the incubation period varies from person to person, and in some studies, the incubation period lasted as long as 24 days! Now there's debate about whether or not asymptomatic people can spread the disease, because these people typically have low levels of circulating virus. But even if they do, asymptomatic transmission likely plays a minor role in the overall epidemic.
一旦被感染,一般5天后才出现症状,这就是潜伏期。然而,潜伏期长短因人而异,一些研究表明潜伏期可长达24天!虽然现阶段对无症状群体是否能传播疾病还存在争议,因为通常这些人群携带的病毒含量很低。但即便如此,无症状传播也可能在整个疾病流行中起到部分作用。
Viruses are given a reproductive number or R-naught based on how quickly they spread, and person to person transmission has been confirmed both in and outside of China. An R naught of 1 means that an infected person passes it on to 1 new person, an R-naught of 2 means that 1 person spreads it to 2 new people, and so forth. 
根据病毒的传播速度可以确定病毒的"再生数"R0(基本传染数),国内外也都确认了该病毒可以人传人。R0等于1时,意味着1位感染者可传染1人;R0等于2时,意味着1位感染者可传染2人,以此类推。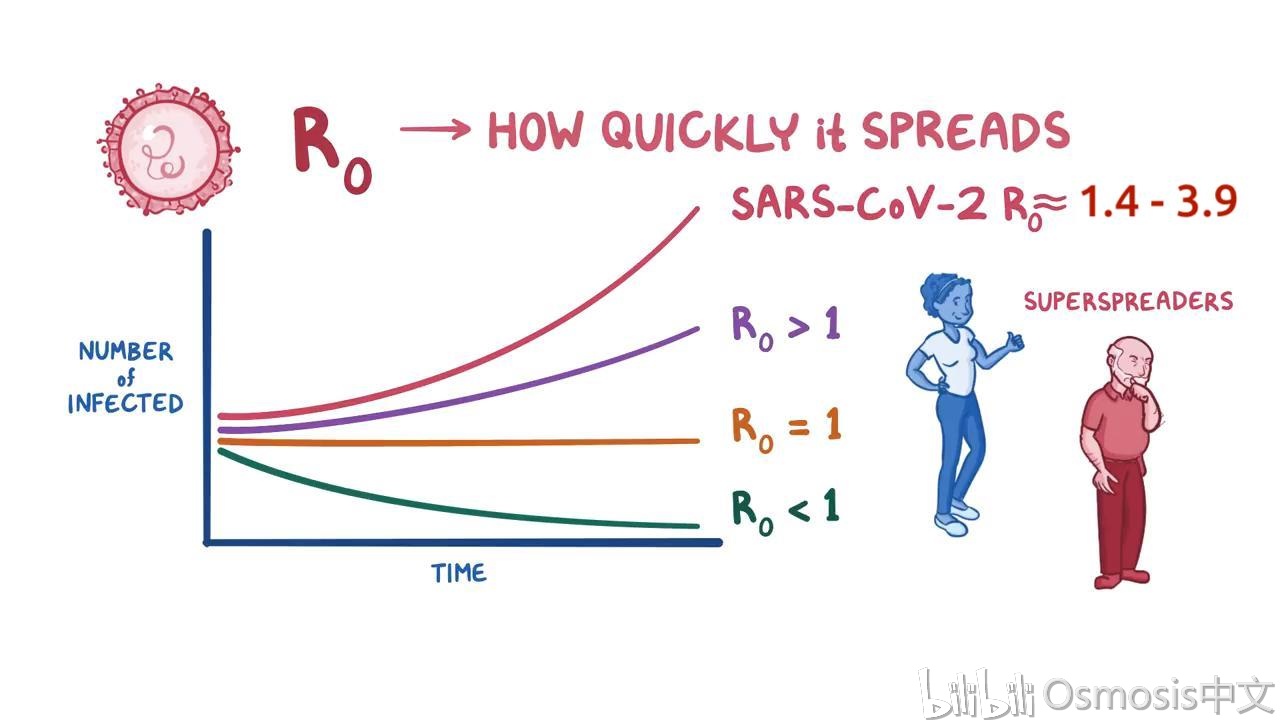 If the R-naught is below 1, the infection peters out, if it's 1 it stays steady, and if it's above 1, then it continues to spread. The current estimate for the SARS-CoV-2 R naught is between 1.4 and 3.9. Of course that's an average, with some spreading the disease less, and others - called superspreaders - spreading the disease at a much much higher rate. 
如果R0小于1,感染会逐渐消失;如果R0大于1,则会继续传染。当前SARS-CoV-2的R0估计在1.4 - 3.9之间,当然这只是个平均数,有些人传染性较低,有些人传染性极高,即"超级传染者"。
The exact cause of these superspreaders is unclear, perhaps they are just in contact with more folks, perhaps their bodies naturally shed more virus, or perhaps there's some other reason altogether.  
出现超级传染者的具体原因不明,也许他们只是与更多人有过接触,也许他们的身体带有更多病毒,或者还有一些其他原因。
诊治|Dx & Tx
To confirm the diagnosis, there should be a Reverse Transcription Polymerase Chain Reaction or rt-PCR tests, a quick test used in many labs and hospitals that can detect very small amounts of viral RNA.  
确诊需要做一个逆转录-聚合酶链式反应(rt-PCR)。许多实验室和医院都在使用该快速检测办法,能够检测到非常少量的病毒RNA。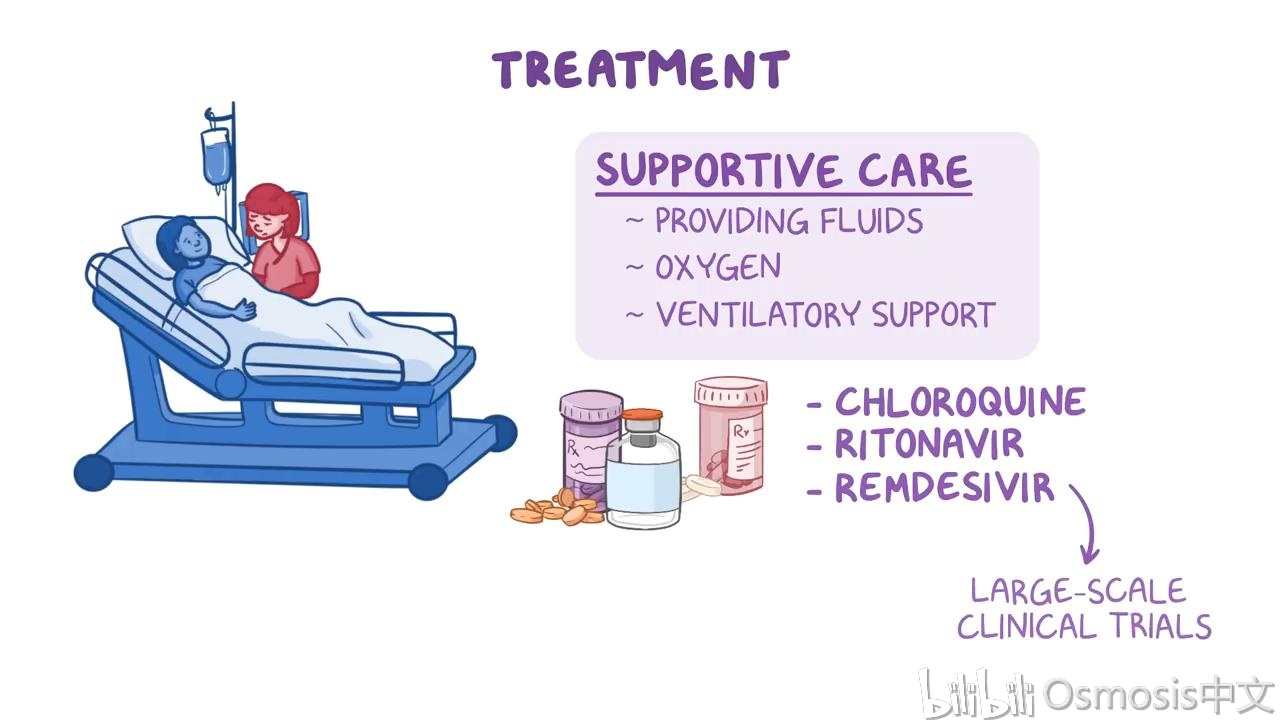 Treatment is focused on supportive care - providing fluids, oxygen, and ventilatory support for really ill people. There's also some early data showing that three medications are highly effective against SARS-CoV-2 in the laboratory setting. These medications are chloroquine, an anti-malarial drug; ritonavir, an anti-HIV medication; and remdesivir, an antiviral drug previously used against Ebola. 
治疗注重对症支持——为重症病人提供液体、氧气和通气支持。也有一些早期证据显示实验室条件下有三种药物对SARS-CoV-2高度有效。这些药物是氯喹(抗疟药)、利托那韦(抗HIV药物)、瑞德西韦(先前用于对抗埃博拉的抗病毒药)。
Remdesivir was given to the first US patient with COVID-19 on day 11 of his illness as he was clinically worsening, and he began to improve the very next day. Large scale clinical trials using remdesivir are already underway in China.
美国首例COVID-19患者发病的第11天使用了瑞德西韦,当时该患者临床症状已出现恶化,服药次日患者开始好转。瑞德西韦的大规模临床试验已经在中国进行。
预防|Prevention
Unfortunately there's no vaccine currently available to protect against COVID-19. At best, it looks like a vaccine will be many months away. 
然而,目前还没有研制出针对COVID-19的疫苗,最快也需要好几个月才能研制出来。
So the goal is to avoid human to human transmission, starting with isolating people with COVID-19. Coronaviruses don't usually spread over long distances in the air, but they can travel roughly 3 feet or 1 meter from one person to another on tiny droplets of saliva, which are produced when someone's coughing or sneezing. In addition, some strains of coronavirus can survive on surfaces for over a day. 
因此当务之急是防止人传人,第一步就是隔离新冠肺炎患者。冠状病毒一般不会在空气中远距离传播,但是在咳嗽或打喷嚏时,可通过唾液飞沫传播约1米远。此外,有些冠状病毒株可以在物体表面存活超过1天。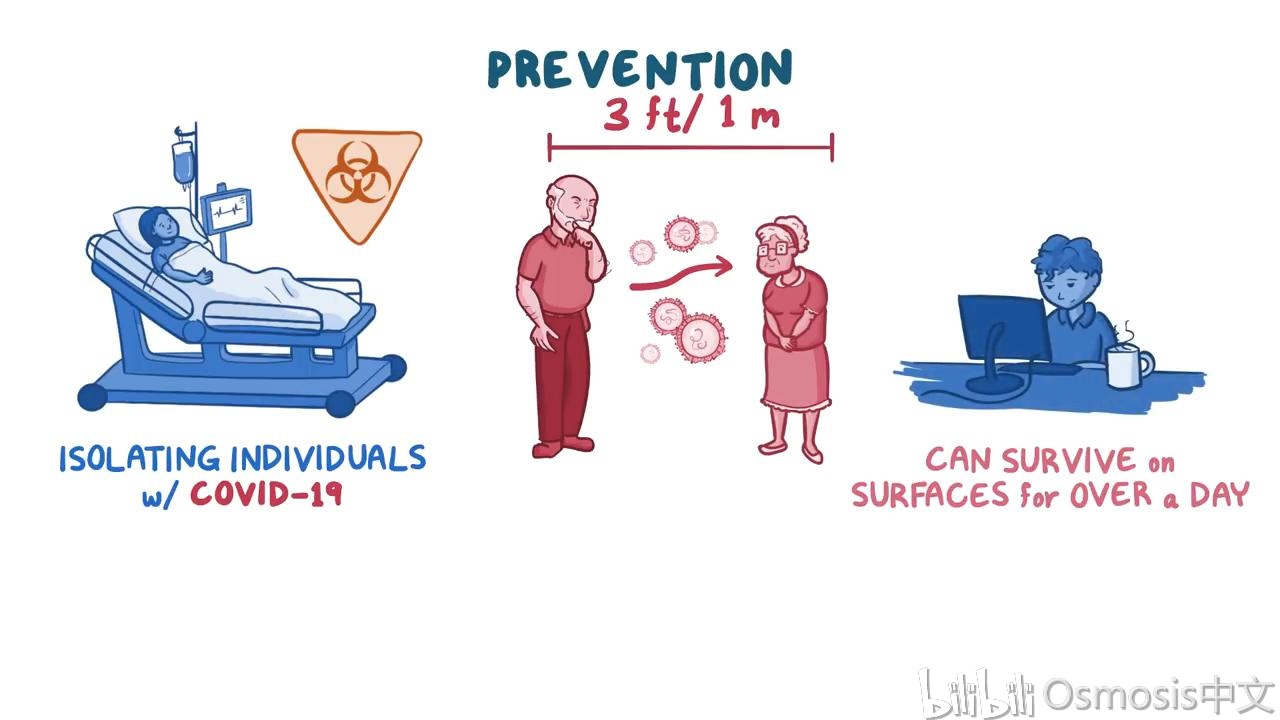 With that in mind, if you're a healthy person living in a non-outbreak area, the recommendation is to avoid travel to disease outbreak areas, generally stay away from crowded places, and stay at least 6 feet or 2 meters away from anyone with symptoms. Wearing a surgical mask is not recommended because the general risk of getting COVID-19 in these settings is so low. 
综上,如果你身体健康且生活在疫情不严重的地域,建议避免前往疫情严重的地区,远离人群,与有症状的人保持至少2米的距离。佩戴外科口罩并不是必选项,因为非疫区的感染率较低。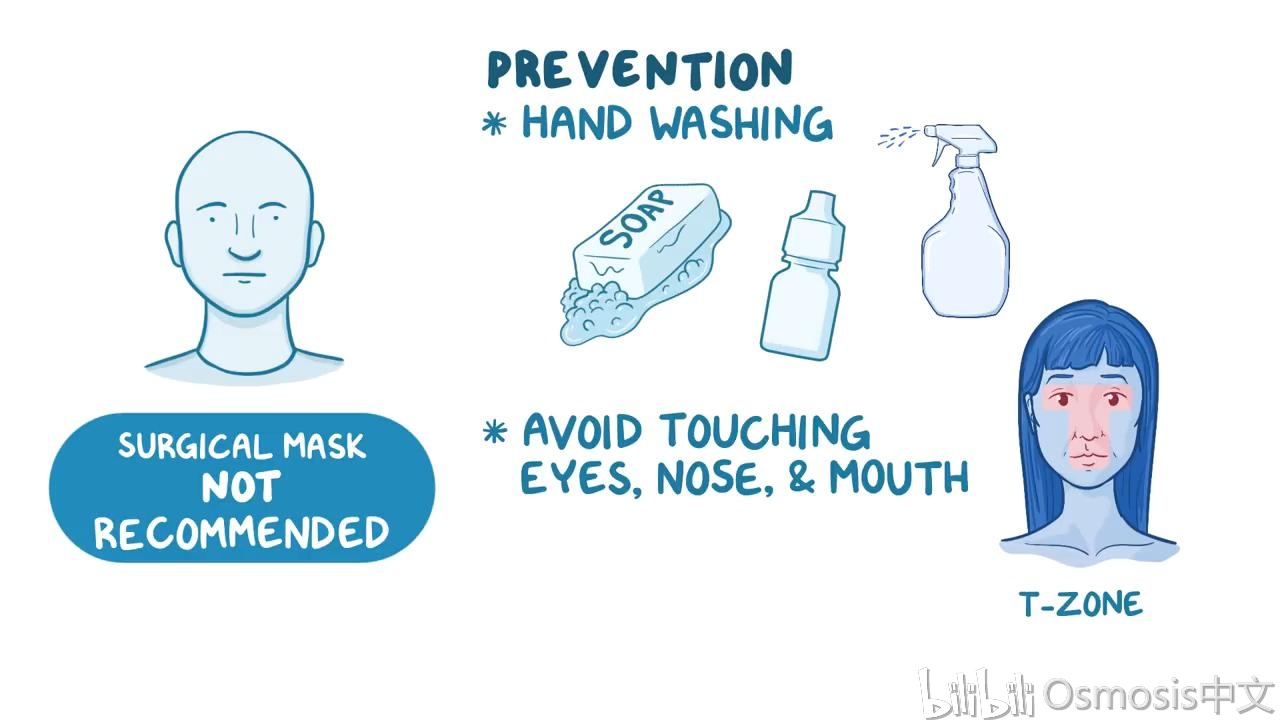 As always, careful hand washing is key and it should be done with soap or alcohol-based hand sanitizers and scrubbing. Also, avoid touching your eyes, nose, and mouth—this is the area, known as your T-zone is a common entry point for viruses into the body.
关键还是要勤洗手,而且必须使用肥皂或含酒精的洗手液洗手。同时,还要避免触碰脸部T区的部位——眼睛,鼻子和嘴巴,这些都是病毒侵入的常见入口。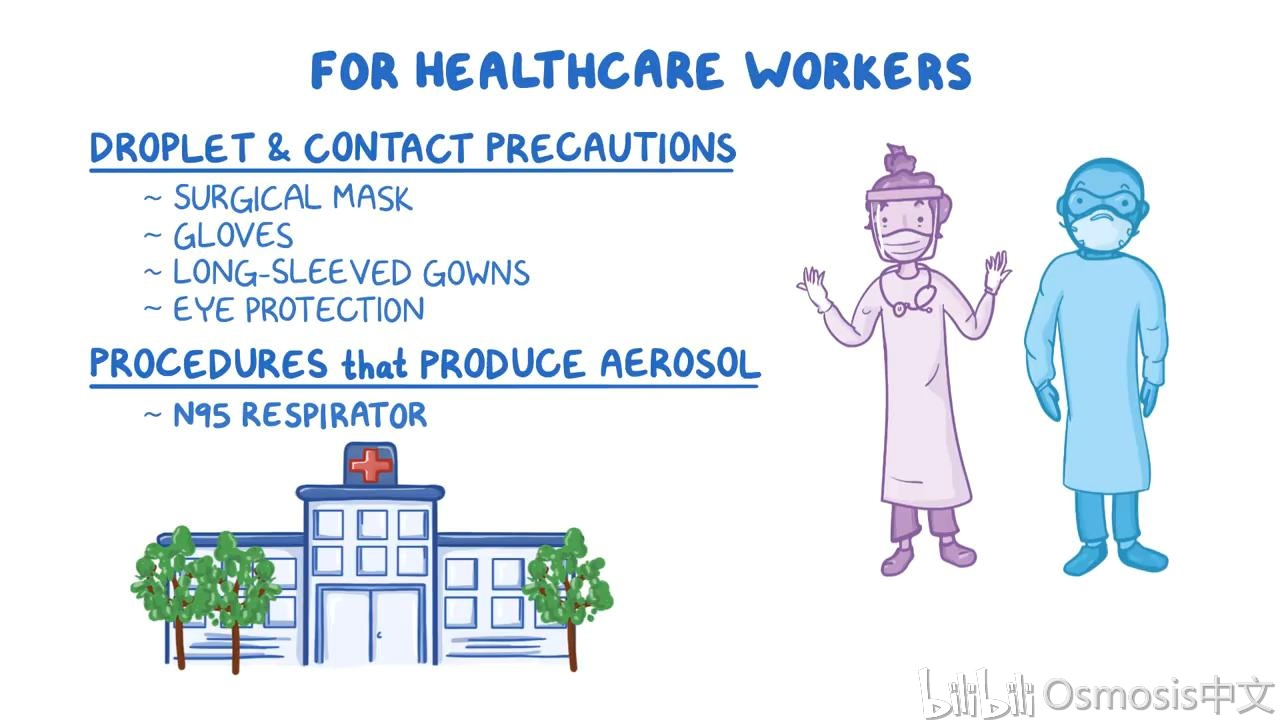 For healthcare workers who are around people with COVID-19, the recommendation is to apply droplet and contact precautions. That includes wearing personal protective equipment like a clean, dry surgical mask, gloves, long-sleeved gowns, and eye protection like goggles or a face shield. 
对于与新冠肺炎患者接触的医疗工作者来说,建议采取避免飞沫和接触传播的隔离措施,包括佩戴清洁干燥的外科口罩、手套、长袖防护服、护目镜及面罩等个人防护装备。
When performing a procedure that generates aerosol, like tracheal intubation, bronchoscopy, CPR, or noninvasive ventilation, it's important to wear a N95 respirator. This prevents 95% of the small particles, like respiratory droplets, from passing through.
如果需进行气管插管、支气管镜检、CPR或无创通气等会产生气溶胶的操作时,必须要佩戴N95口罩,因为N95口罩可以过滤掉95%的小颗粒,如呼吸道飞沫。
小结|Recap
To recap, the SARS-CoV-2 virus causes a respiratory disease called COVID-19. 
小结一下:COVID-19(2019冠状病毒病),是由SARS-CoV-2引发的呼吸系统传染病。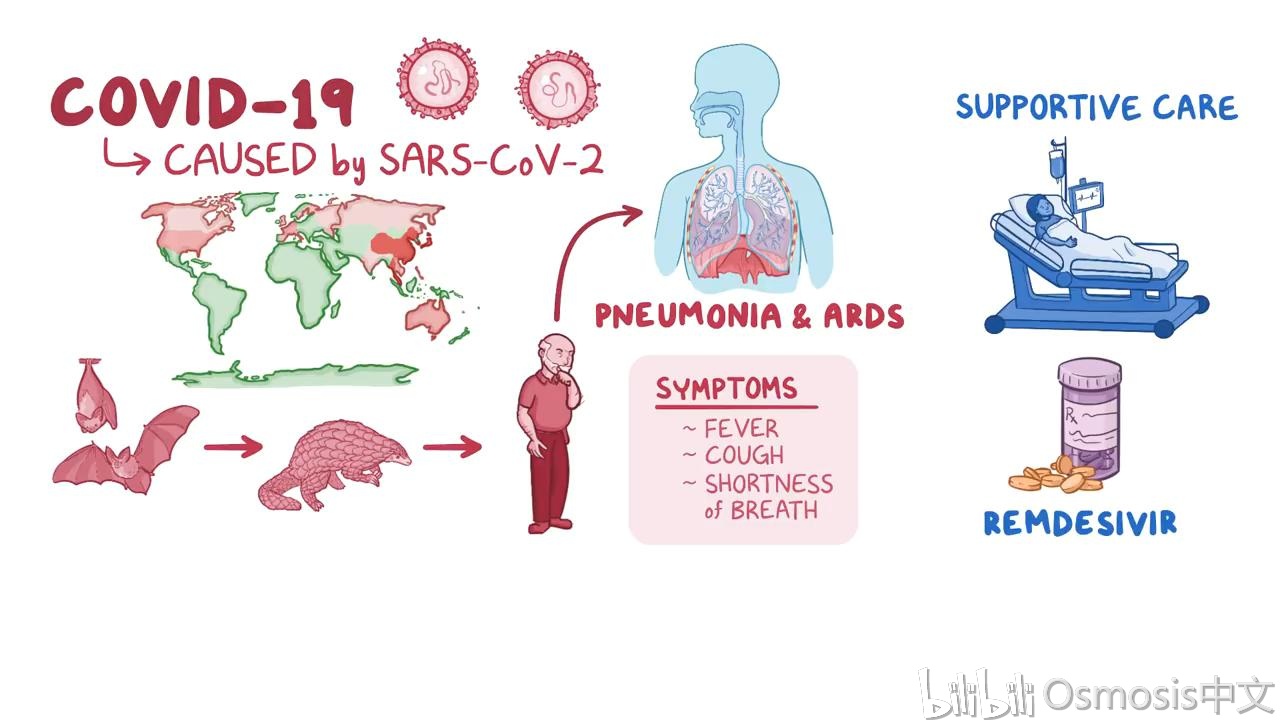 The virus probably originated from bats, then went to pangolins as an intermediate host, and finally to humans. The virus travels in respiratory droplets and enters the body via the mouth, nose, or eyes.  Once inside the body, it replicates in the respiratory system, causing symptoms like fever, cough, and shortness of breath. Some people might develop more dangerous complications like pneumonia, ARDS, and shock. Treatments are focused on supportive care, but certain medications like Remdesivir are currently in clinical trials.  
这种病毒可能来源于蝙蝠,通过中间宿主穿山甲传染给了人类。病毒可通过呼吸道飞沫,从眼睛、鼻腔和口腔进入体内。一旦进入机体,病毒则会在呼吸系统中增殖,引起发热、咳嗽、呼吸急促等症状。某些患者可能发展危险的并发症,如肺炎、急性呼吸窘迫综合征(ARDS)、以及脓毒性休克。目前的治疗主要是对症支持治疗,瑞德西韦等特定药物目前还处于临床试验阶段。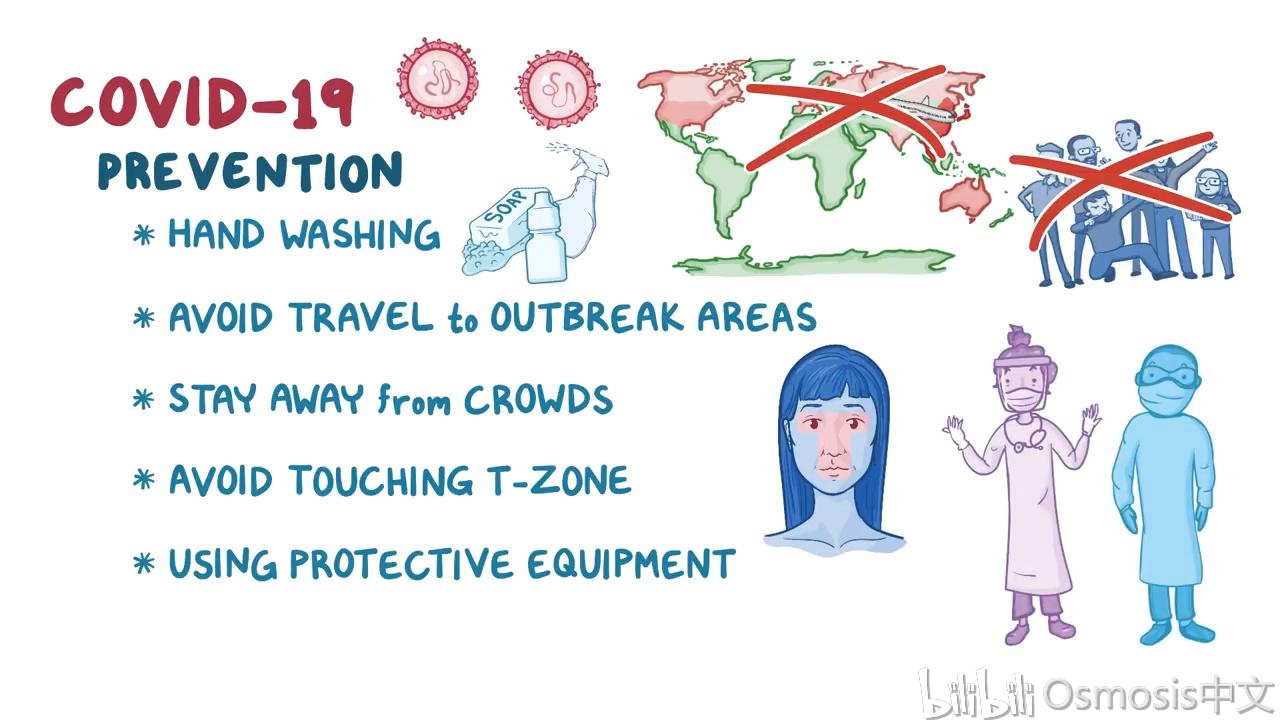 In the meantime, the best strategy is prevention -- this includes careful hand washing, avoiding travelling to disease outbreak areas and crowded places when possible, avoiding touching your T-zone, and if you're a healthcare worker to use personal protective equipment.  
同时,最佳"战疫"策略还是预防,包括:仔细洗手,尽可能避免到疫情严重的地区、远离人群,避免触碰脸部T区;如果是医护人员,建议佩戴个人防护装备。
参考文献|Citations
Confirmed 2019-nCoV Cases Globally. (2020). Retrieved from https://www.cdc.gov/coronavirus/2019-ncov/locations-confirmed-cases.html#map

Letko, M., & Munster, V. (2020). Functional assessment of cell entry and receptor usage for lineage B β-coronaviruses, including 2019-nCoV. doi: 10.1101/2020.01.22.915660
WHO. (2020).
Novel coronavirus (NCoV 2019) Situation report 22. Retrieved from https://www.who.int/docs/default-source/coronaviruse/situation-reports/20200211-sitrep-22-ncov.pdf?sfvrsn=fb6d49b1_2
SARS. (2005, May 3). Retrieved February 11, 2020, from https://www.cdc.gov/sars/about/faq.html#global
Middle East respiratory syndrome coronavirus (MERS-CoV). (2020, January 23). Retrieved February 11, 2020, from https://www.who.int/emergencies/mers-cov/en/
Cost of the Ebola Epidemic Error processing SSI file. (2019, March 8). Retrieved February 11, 2020, from https://www.cdc.gov/vhf/ebola/history/2014-2016-outbreak/cost-of-ebola.html?CDC_AA_refVal=https://www.cdc.gov/vhf/ebola/outbreaks/2014-west-africa/cost-of-ebola.html
Song, Z., Xu, Y., Bao, L., Zhang, L., Yu, P., Qu, Y., … Qin, C. (2019). From SARS to MERS, Thrusting Coronaviruses into the Spotlight. Viruses, 11(1), 59. doi: 10.3390/v11010059
Wu, J. T., Leung, K., & Leung, G. M. (2020). Nowcasting and forecasting the potential domestic and international spread of the 2019-nCoV outbreak originating in Wuhan, China: a modelling study. The Lancet. doi: 10.1016/s0140-6736(20)30260-9
Li, Q., Guan, X., Wu, P., Wang, X., Zhou, L., Tong, Y., … Feng, Z. (2020). Early Transmission Dynamics in Wuhan, China, of Novel Coronavirus–Infected Pneumonia. New England Journal of Medicine. doi: 10.1056/nejmoa2001316
Guan, W.-J., Ni, Z.-Y., Hu, Y., Liang, W.-H., Ou, C.-Q., He, J.-X., … Zhong, N.-S. (2020). Clinical characteristics of 2019 novel coronavirus infection in China. doi: 10.1101/2020.02.06.20020974
Real-Time RT-PCR Panel for Detection 2019-nCoV. (2020, February 5). Retrieved February 11, 2020, from https://www.cdc.gov/coronavirus/2019-ncov/lab/rt-pcr-detection-instructions.html
Wang, M., Cao, R., Zhang, L. et al. Remdesivir and chloroquine effectively inhibit the recently emerged novel coronavirus (2019-nCoV) in vitro. Cell Res (2020). https://doi.org/10.1038/s41422-020-0282-0
Holshue, M. L., Debolt, C., Lindquist, S., Lofy, K. H., Wiesman, J., Bruce, H., … Pillai, S. K. (2020). First Case of 2019 Novel Coronavirus in the United States. New England Journal of Medicine. doi: 10.1056/nejmoa2001191
Grady, D. (2020, February 6). China Begins Testing an Antiviral Drug in Coronavirus Patients. Retrieved February 11, 2020, from https://www.nytimes.com/2020/02/06/health/coronavirus-treatments.html
Prevention, Treatment of Novel Coronavirus (2019-nCoV). (2020, February 8). Retrieved February 11, 2020, from https://www.cdc.gov/coronavirus/2019-ncov/about/prevention-treatment.html
Casanova, L. M., Jeon, S., Rutala, W. A., Weber, D. J., & Sobsey, M. D. (2010). Effects of Air Temperature and Relative Humidity on Coronavirus Survival on Surfaces. Applied and Environmental Microbiology, 76(9), 2712–2717. doi: 10.1128/aem.02291-09
When and How to Wash Your Hands. (2019, October 3). Retrieved February 11, 2020, from https://www.cdc.gov/handwashing/when-how-handwashing.html
Prevention, Treatment of Novel Coronavirus (2019-nCoV). (2020, February 8). Retrieved February 11, 2020, from https://www.cdc.gov/coronavirus/2019-ncov/about/prevention-treatment.html
Advice on the use of masks the community, during home care and in health care settings in the context of the novel coronavirus (2019-nCoV) outbreak. (2020, January 29). Retrieved February 11, 2020, from https://www.who.int/publications-detail/advice-on-the-use-of-masks-the-community-during-home-care-and-in-health-care-settings-in-the-context-of-the-novel-coronavirus-(2019-ncov)-outbreak
Chen, N., Zhou, M., Dong, X., Qu, J., Gong, F., Han, Y., … Zhang, L. (2020). Epidemiological and clinical characteristics of 99 cases of 2019 novel coronavirus pneumonia in Wuhan, China: a descriptive study. The Lancet. doi: 10.1016/s0140-6736(20)30211-7
Huang, C., Wang, Y., Li, X., Ren, L., Zhao, J., Hu, Y., … Cao, B. (2020). Clinical features of patients infected with 2019 novel coronavirus in Wuhan, China. The Lancet. doi: 10.1016/s0140-6736(20)30183-5
Inadequate plumbing systems likely contributed to SARS transmission (2003, September 26). Retrieved February 11, 2020, from https://www.who.int/mediacentre/news/releases/2003/pr70/en/
附图|Images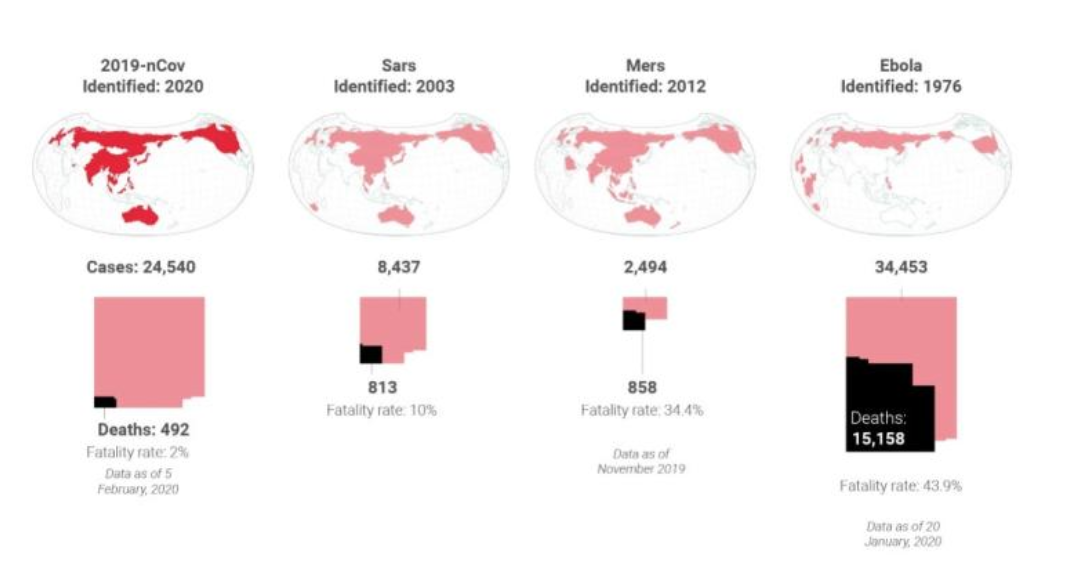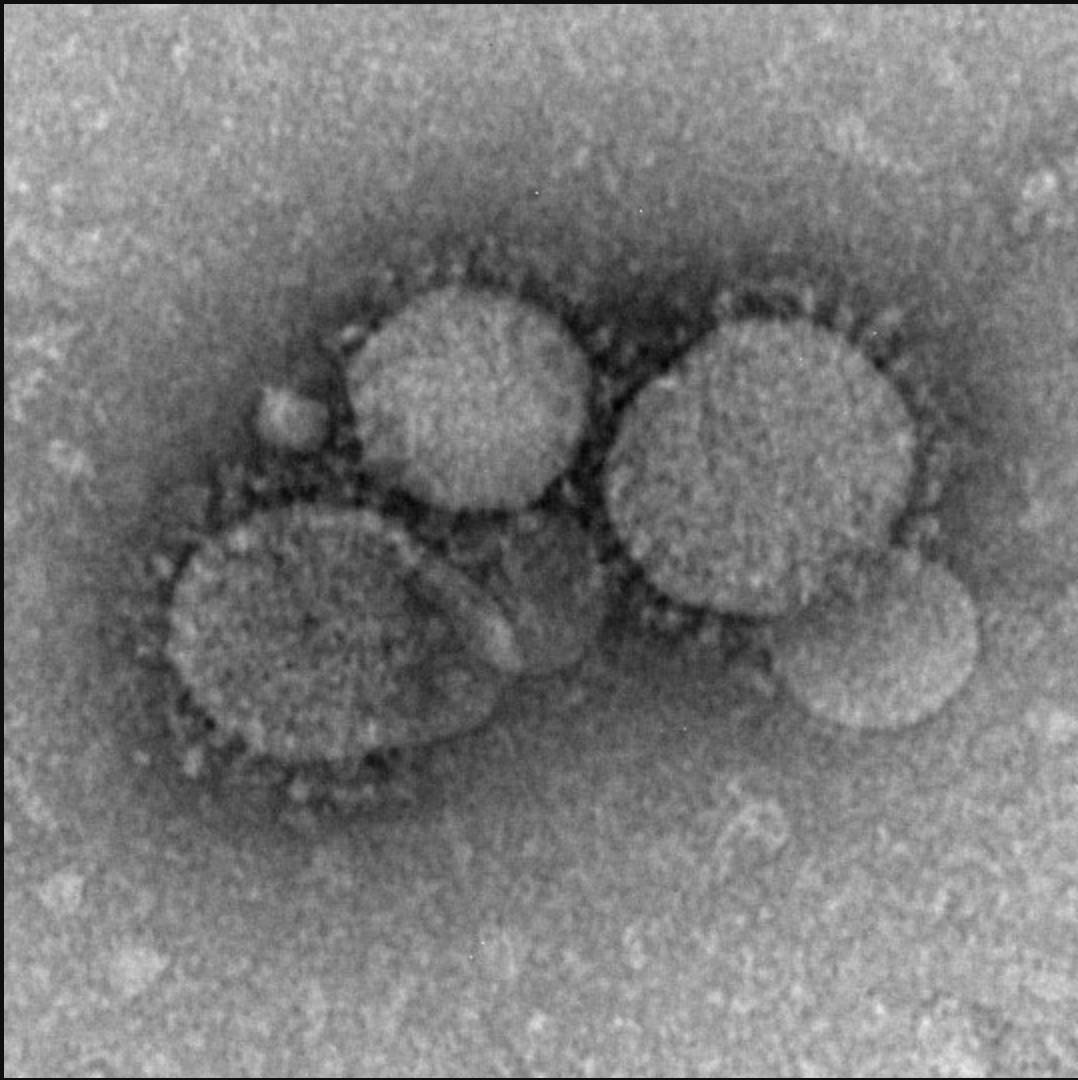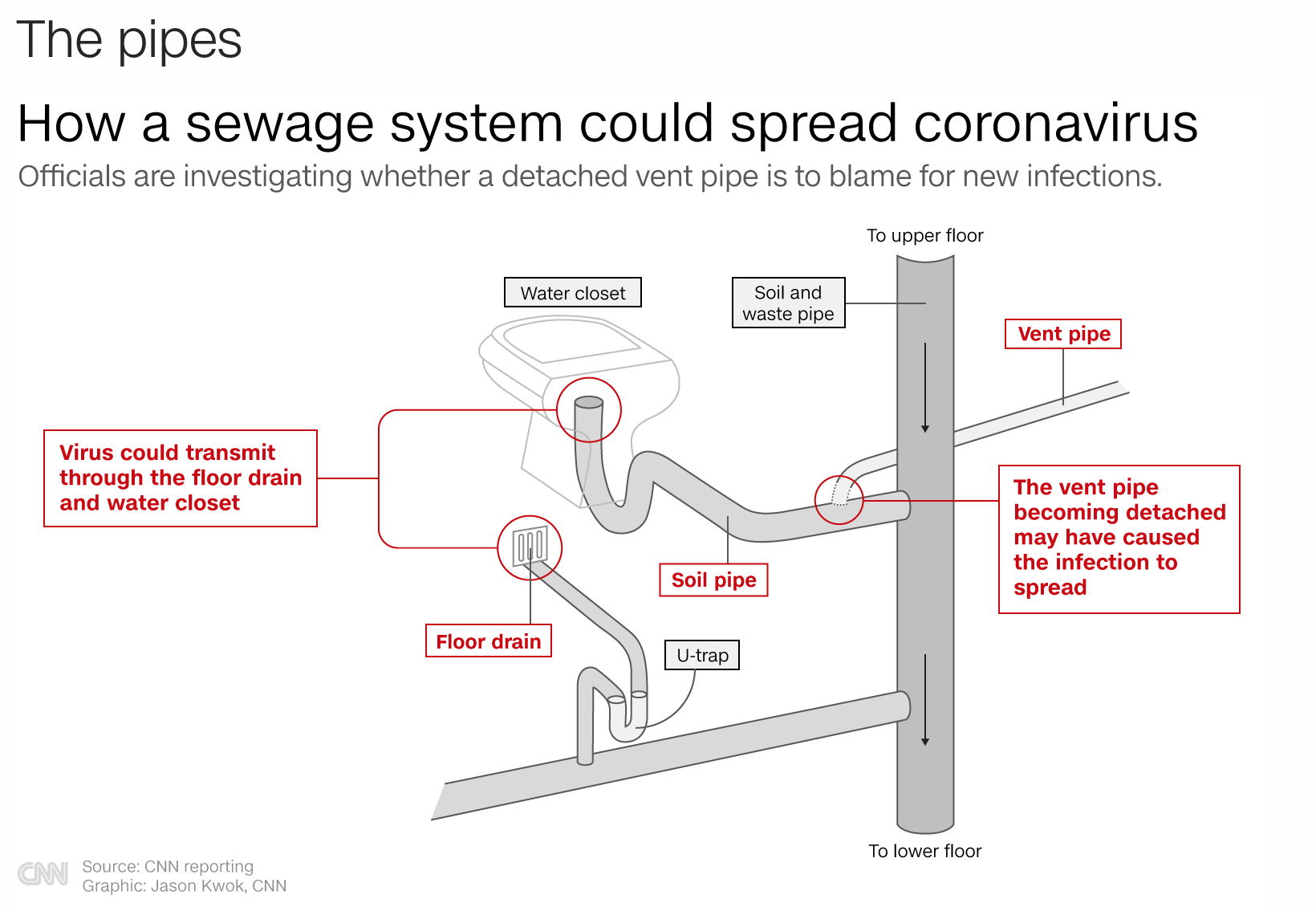 开源医见 · B站学不停